&nbsp &nbsp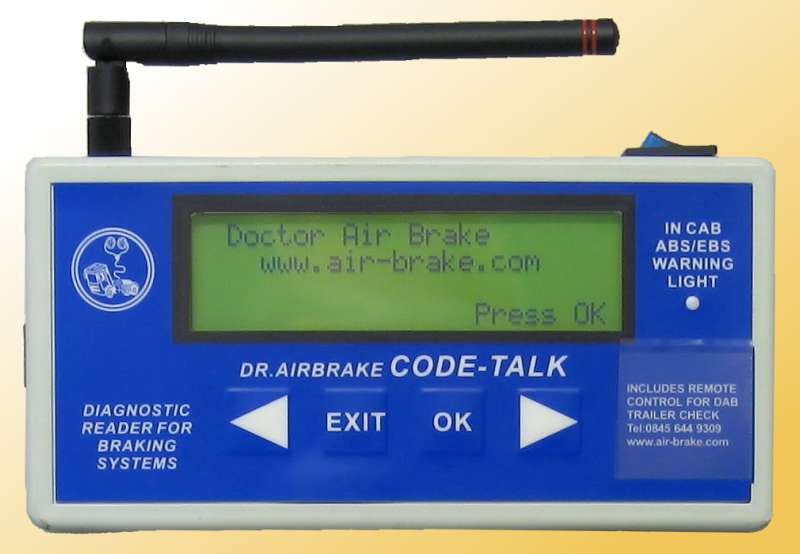 A new truck trailer diagnostic tool by Doctor Air-Brake.
Hand held fault code reader for ABS and EBS faults on all three makes: Wabco, Haldex and Knorr-Bremse.
Designed for real world use by commercial vehicle trailer braking repair operatives in the U.K. and European market.
Shows actual fault code and fault code description. Clears stored faults to reset vehicle warning light. Extra functionality depending on ECU type (e.g. live wheel speed data, voltages at ECU, ECU serial number, EBS pressure readings).
Radio remote control for Doctor Air-Brake Trailer Check and Hope Scrutineer; allows switching of lights, ABS or EBS from anywhere around the trailer.
Significant cost and labour savings over PC laptop based diagnostic software. Easy to use and quick; no wasted time setting up laptops or dealing with PC software issues. No software licenses or PIN codes needed.
Single unit removes need for manufacturer's code readers such as Wabco Compact Tester and Haldex Info Centre. More compact, robust and reliable than Wabco Diagnostic Controller. Ideal for everyday use compared to alternatives costing thousands of pounds (Texa etc).
Growing list of supported ECUs including: Haldex Modal, Wabco Vario C ("Boxer"), Haldex Modular, Wabco VCS, Wabco VCS2, Haldex EB+ Gen 1, Haldex EB+ Gen 2, Haldex EB+ Gen 3, Knorr-Bremse TEBS, Wabco TEBS-D, Wabco TEBS-E, Haldex U-ABS. Beta version of Knorr-Bremse TEBS G2 support now available.
Hardware supports diagnostics over four different networks: ISO 11992 CAN lines (pins 6 and 7 of ISO 7638 connector, "24 Volt CAN"), ISO 11898 CAN ("5 Volt CAN", "SAE J1939", "TI CAN"), ISO 9141 ("K & L line", "KWP 2000", "JED 677"), and Haldex UART.
On-going development on firmware upgrades to support new ECU types and new diagnostic features.
Now on sale; phone Doctor Air-Brake on 01785 714447.
(+44 1785 714447 outside the U.K.)